Sustainability
Shades of green
We have spent more than a decade developing a production model that utilizes sustainable packaging materials, techniques and processes.
We regularly advise customers on ways they can reduce waste and save cost on their packaging, including designing and downgauging labels for greater production efficiency. We help them transition to container types like IML, which offers reusability, recyclability, lighter weight, space optimization and no need for secondary packaging components.
Brand owners who expect sustainability in their supply chain also expect cost efficiency. Since our own cost structure also impacts our customers, we focus on actions that make business sense. We employ these practices and others to reduce the use of resources and save cost.
Recycle heat exhausted from our presses to heat our facilities
Use a closed loop water system to reduce the need for compressed air
Employ a water-based gravure ink system and soy based offset ink system, which is healthier for our employees, greatly reduces use of petroleum-based chemicals
We make it a point to partner with other organizations who place a high importance on reducing their carbon footprint. We are founding members of two sustainability groups:
The Center for Bioplastics and Biocomposites, a national industry and research university alliance to develop new commercially viable sustainable materials
The Sustainability Institute, a regional consortium which provides leadership and education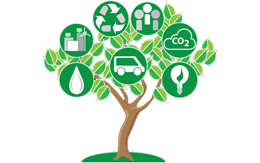 Blog: Sustainable Packaging